In-ground Swimming Pool Liners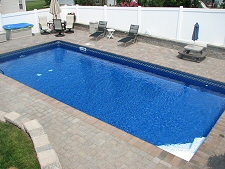 Need a new in-ground pool liner? You've come to the best place to buy one! At The Pool Store, we strive to set ourselves apart from the competition, offering the same "top of the line" products with better prices, better service and FREE EXTENDED WARRANTIES! FREE ESTIMATES! CLICK HERE!
Our competitors tell you to do the research and if you can find a lower price, they will match it. But if you don't check out every store, then you will pay more! At The Pool Store, WE DO THE RESEARCH. We know our competition. After all, it's our business to know. We offer the BEST PRICE to each and every one of our valued customers, EVERYDAY!
FREE ESTIMATES! FULLY LICENSED AND INSURED!
ALL WORK GUARANTEED!
PROUD TO OFFER BOTH MERLIN, DAVINCI & TARA IN-GROUND LINERS COVERED BY A 20 YEAR MANUFACTURER WARRANTY AND OUR FREE EXTENDED WARRANTY!
Browse our large selection of Swimming Pool Liner Patterns
INGROUND
LINER REPLACEMENTS
Our Lowest Prices of the Season!
April * May * June
Installation Dates Available
SCHEDULE NOW & SAVE
OVER 40 PATTERNS TO CHOOSE FROM * 20 YEAR WARRANTY!
Other Sizes Available
CLICK HERE FOR A FREE ESTIMATE
---
Read what "The Pool Lady" has to say about purchasing an in-ground pool liner.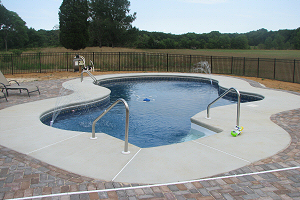 "Having been in the pool business for over 30 years, I know the competition. Almost all pool companies sell in-ground pool liners (some more expensive than others); however, the products available are the same. There are several top manufacturers of in-ground liners and they each make a quality product. Paying more for an in-ground pool liner from one company does not give you a better product. What most customers who purchase in-ground liners should look for is the warranty for the installation, not the liner itself.
The liner manufacturer guarantees their product, usually for up to 20 years (pro-rated). If the liner is deemed defective, they will give you a new one; however, they will not include the cost of having it installed a second time. That is why you want to check your "Installation Guarantee" from the company. Most companies offer a one year installation guarantee. It has been my experience that an in-ground liner will usually show a manufacturer defect in the first two years. If your liner has a defect that shows up after the first year, you will incur a charge anywhere from $ 700.00—$ 900.00 to have it installed. And that's not all! More often than not, when you have a liner installed in an existing pool, the liner will "Pop Out of the Tracking" and will need to be fixed. Also, covered by the one year warranty. The problem is, this usually happens in the second year following the installation, no longer covered by the warranty. Companies usually charge anywhere from $ 95.00—$ 150.00 for a service call to fix it. "
At The Pool Store, you're covered by our FREE EXTENDED WARRANTY for 2 FULL YEARS! That's right, if your liner "pops out of the track" or your liner is defective, you won't pay us anything to fix it for 2 full years! We will even help you communicate with the manufacturer and handle the warranty they provide. If you lose your warranty paperwork, lose your receipt or simply forget to mail in the warranty card, don't worry! We will keep all of your records on file at our office. Just another way The Pool Store, keeps "Providing our customers with Great Products, Great Prices and Great Service!"

HIC Reg. # 13VH04399300 FOR INFORMATION ABOUT CONTRACTORS AND THE CONTRACTORS REGISTRATION ACT, CONTACT THE NEW JERSEY DEPARTMENT OF LAW AND PUBLIC SAFETY, DIVISION OF CONSUMER AFFAIRS AT: 1-888-656-6225.